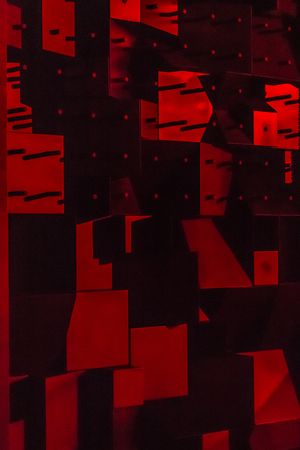 BIO
International reggae and multi-platinum recording artist RAYVON has sold millions of records over the course of his extensive career via solo and collaboration releases, most notably the worldwide multi-platinum hit, "Angel" featuring Shaggy.
RAYVON has performed in countless venues globally. He is an engaging and charismatic performer and has shared the stage with such legendary icons as The Rolling Stones and Michael Jackson. 
Barbados born, Brooklyn-raised Rayvon has garnered success and more while affectionately being dubbed the "Ambassador of Hip-Hop Reggae". His pop-infused Caribbean flavor has paved the way for the latest generation of Barbadian recording artists such as Rihanna, Shontelle, and Jaicko. 
Rayvon began collaborating on a string of tunes in the 90's with Shaggy which culminated in the Sting International produced regional hit "Big Up." 

In 1994, Rayvon's solo star began to brighten with the release of his hip-hop reggae classic "No Guns, No Murder" (produced by Funkmaster Flex) on the venerable VP Records. The track hit a trifecta on Billboard, ranking in simultaneously on the Hot 100, Rap Singles, and R&B/ Hip-Hop Songs charts. 
VP issued the follow up "Pretty (Before I Go To Bed)," which quickly staked out a spot the Billboard's Rap Singles chart. 
In 1995 he recorded the island-tinged duet "In The Summertime" from Shaggy's platinum, Grammy award-winning album Boombastic. reached No. 3 on Billboard's Hot 100 and No. 5 in the UK while also featured in various major motion pictures and television series. 
Rayvon spent the next few years diligently releasing underground singles including "Bashment Party," which positioned itself on Billboard's Rap Singles chart. 
In 2001 Rayvon lent his vocals to yet another smash Shaggy duet, "Angel," from the 6x Platinum seller Hotshot. This time, the duo topped Billboard's Hot 100 and took home an American Music Award for the wildly successful tune. Rayvon appeared with Shaggy in the national spotlight on shows like Live w/ Regis & Kelly, Saturday Night Live, Jay Leno, David Letterman and All My Children. The song has since clocked in at 18 million views on YouTube and has been certified gold and platinum worldwide. 
Rayvon has released three solo albums, Hear My Cry (Virgin Records 1997); My Bad (Big Yard Music/MCA Records 2002) and the self-titled Rayvon (2010). 
Rayvon is currently promoting his recent single releases "I See You"  featuring Sugar Bear, "It Wasn't Me (Hotshot 2020)" with Shaggy and "Turnt Up Party" collaborating with DJ Epps and 2Nyce.